SELECTED
SELECTED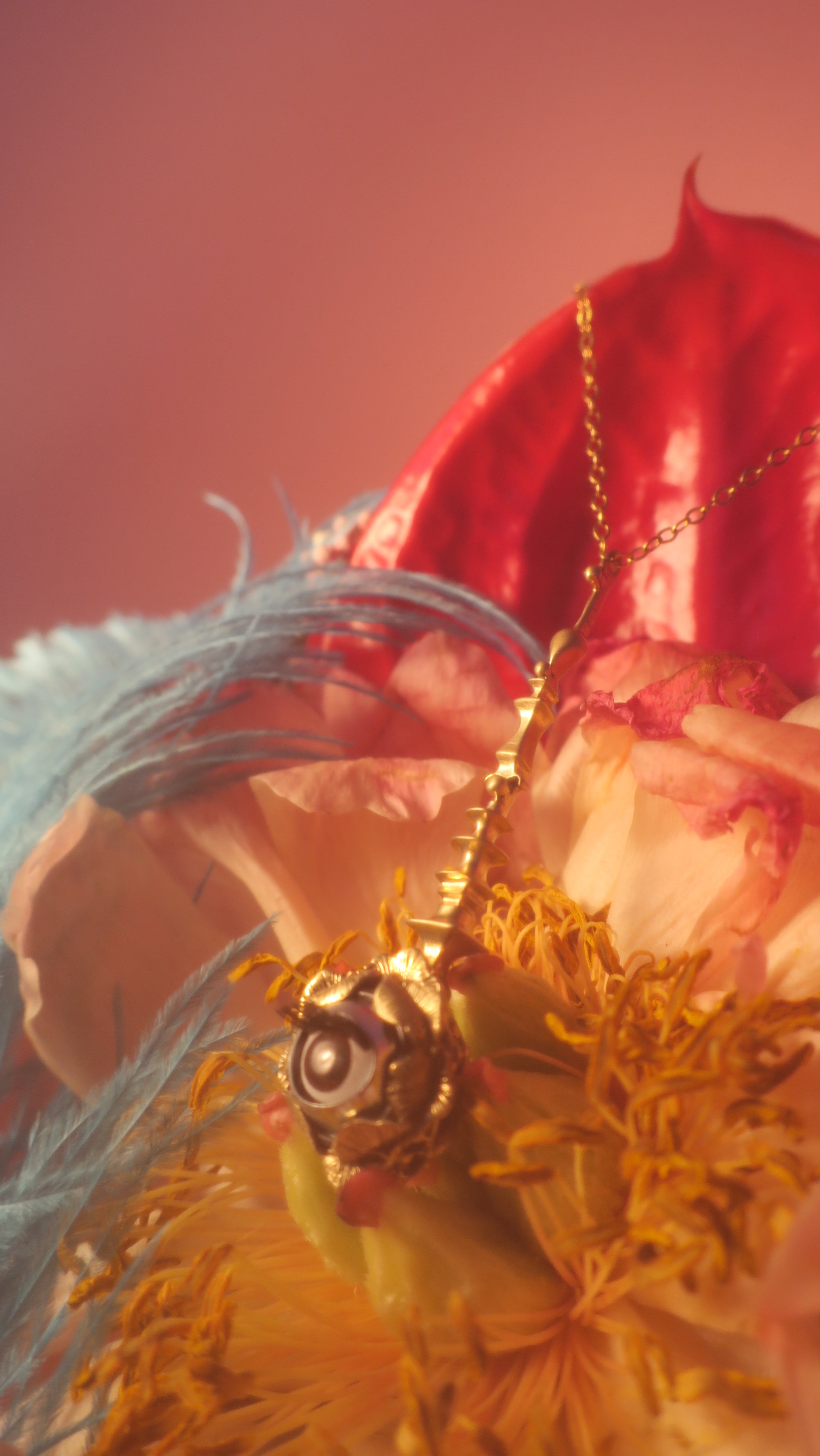 SELECTED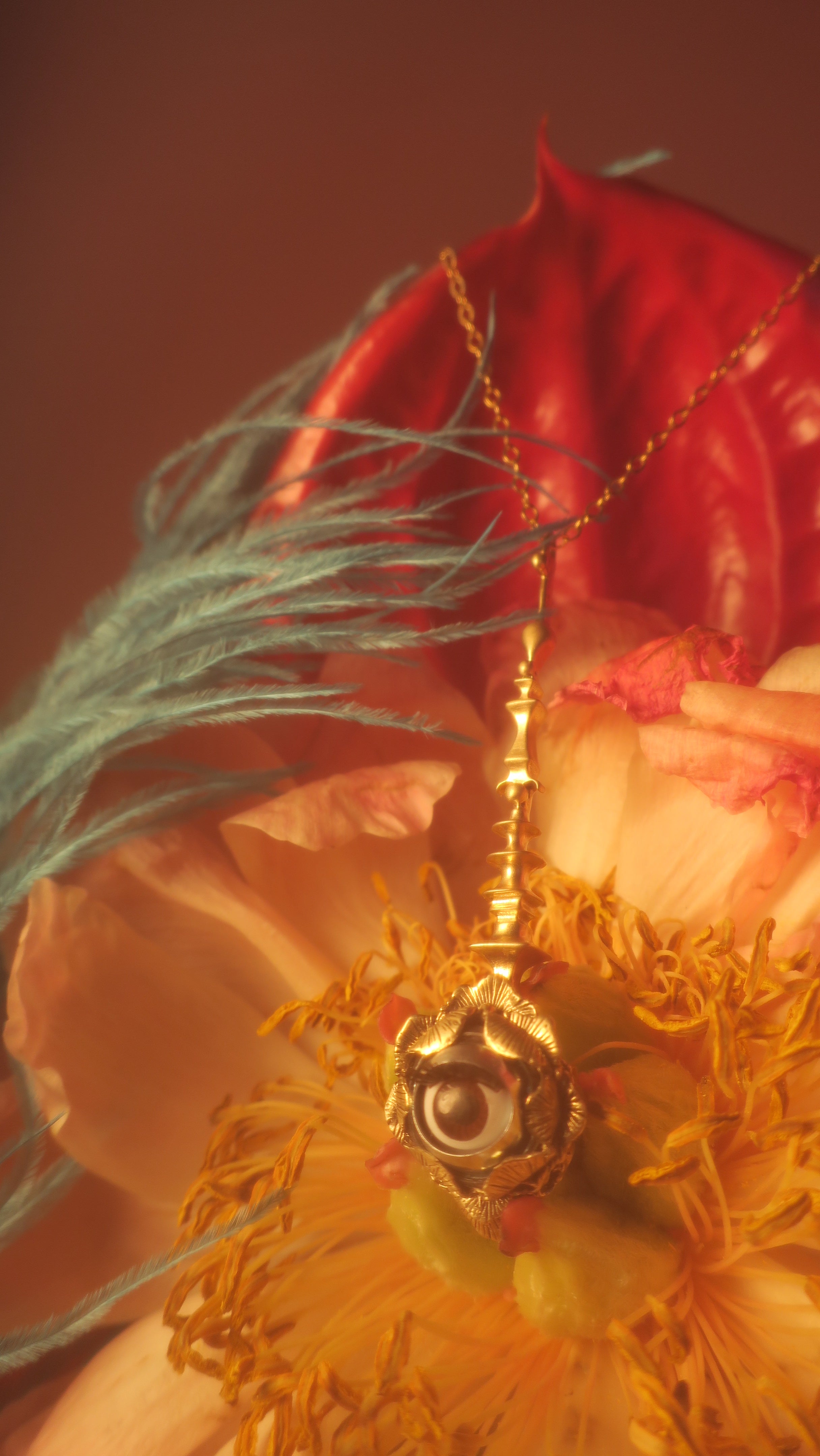 SELECTED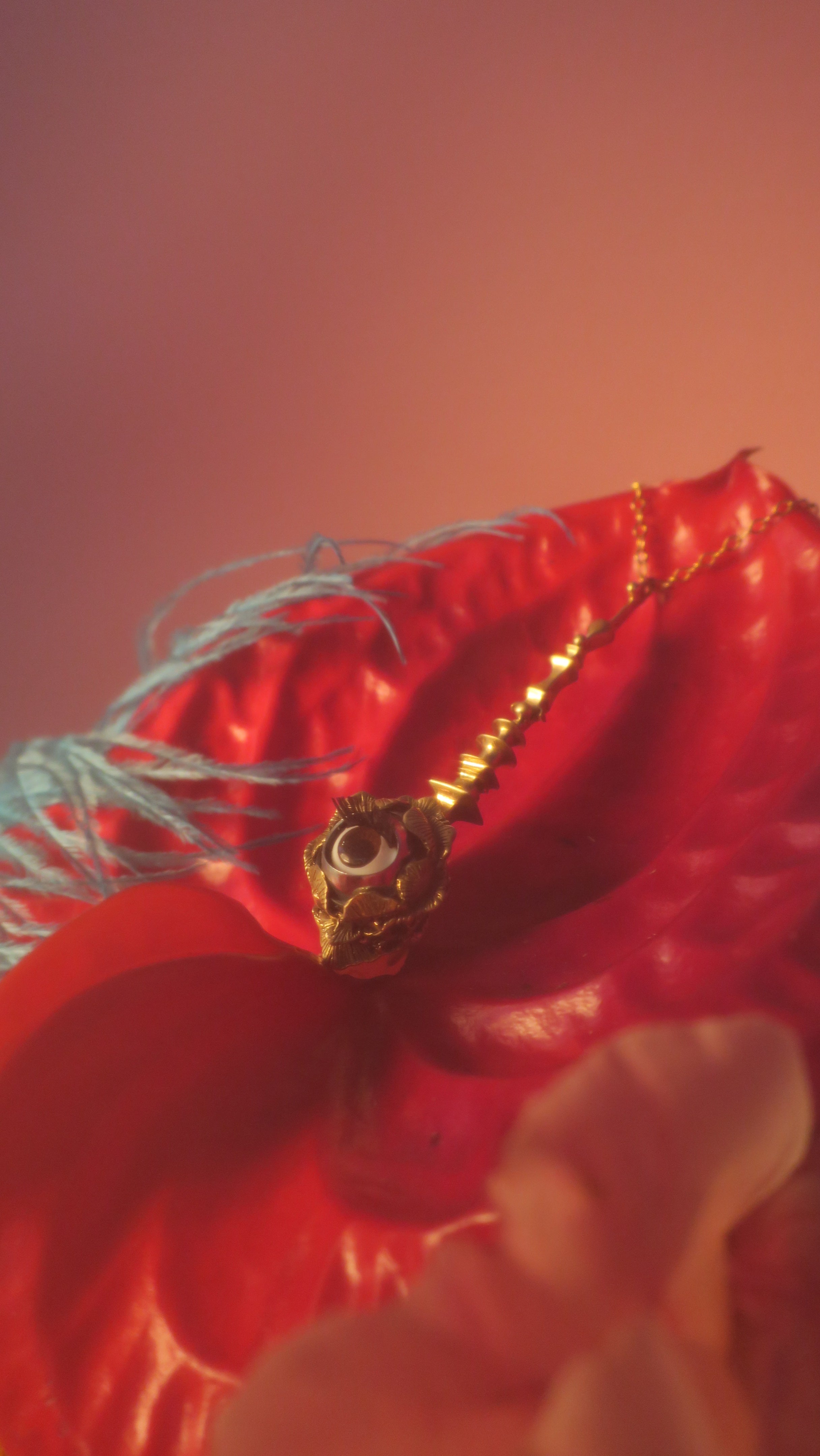 SELECTED
Vibrations V
Vibrations Collection
Everything vibrates on a specific level. Some vibrations we create and some are received by us from the ether. This new collection is a mixture of vibrations received and given. Each piece is a vibration KT Ferris has processed  and then manifested with her own hands. Every design is meticulously carved in wax and birthed into metal. Her works have always been perceived as amulets of protection. This new collection is reminiscent of decorative armor of ages past and future neither classical or futuristic but intrinsically both. All the blinking eyes have a new shield protecting the wearer and the amulet.  
The formations are also similar to seismic readings of earthquake vibrations from the earth. They are shifts in its core ushering change and growth to its surface in the same way creating jewelry is for KT Ferris.  
This design comes with a brown blinking doll eye. Laying about 3 inches long this necklace comes on a 14 inch chain, if you need a shorter or longer length chain please leave a note at checkout.
Will ship in 4-6 weeks! 
{"id":3968368148524,"title":"Vibrations V","handle":"vibrations-v","description":"\u003cp class=\"m_-3446359851151315177p1\"\u003e\u003cspan class=\"m_-3446359851151315177s1\"\u003eVibrations Collection\u003c\/span\u003e\u003c\/p\u003e\n\u003cp class=\"m_-3446359851151315177p2\"\u003e \u003c\/p\u003e\n\u003cp class=\"m_-3446359851151315177p1\"\u003e\u003cspan class=\"m_-3446359851151315177s1\"\u003eEverything vibrates on a specific level. \u003c\/span\u003e\u003cspan class=\"m_-3446359851151315177s1\"\u003eSome vibrations we create and some are received by us from the ether. \u003c\/span\u003e\u003cspan class=\"m_-3446359851151315177s1\"\u003eThis new collection is a mixture of vibrations received and given. \u003c\/span\u003e\u003cspan class=\"m_-3446359851151315177s1\"\u003eEach piece is a vibration KT Ferris has processed  and then manifested \u003c\/span\u003e\u003cspan class=\"m_-3446359851151315177s1\"\u003ewith her own hands. Every design is meticulously carved in wax \u003c\/span\u003e\u003cspan class=\"m_-3446359851151315177s1\"\u003eand birthed into metal. Her works have always been perceived as amulets \u003c\/span\u003e\u003cspan class=\"m_-3446359851151315177s1\"\u003eof protection. This new collection is reminiscent of decorative armor of \u003c\/span\u003e\u003cspan class=\"m_-3446359851151315177s1\"\u003eages past and future neither classical or futuristic but intrinsically both. \u003c\/span\u003e\u003cspan class=\"m_-3446359851151315177s1\"\u003eAll the blinking eyes have a new shield protecting the wearer and the amulet.  \u003c\/span\u003e\u003c\/p\u003e\n\u003cp class=\"m_-3446359851151315177p1\"\u003e\u003cspan class=\"m_-3446359851151315177s1\"\u003eThe formations are also similar to seismic readings of earthquake vibrations from the earth. They are shifts in its core ushering change and growth to its surface in the same way creating jewelry is for KT Ferris.  \u003c\/span\u003e\u003c\/p\u003e\n\u003cp class=\"m_-3446359851151315177p1\"\u003e\u003cspan class=\"m_-3446359851151315177s1\"\u003eThis design comes with a brown blinking doll eye. Laying about 3 inches long this necklace comes on a 14 inch chain, if you need a shorter or longer length chain please leave a note at checkout.\u003c\/span\u003e\u003c\/p\u003e\n\u003cdiv class=\"yj6qo\"\u003eWill ship in 4-6 weeks! \u003c\/div\u003e","published_at":"2023-04-01T11:11:06-04:00","created_at":"2019-08-08T00:39:14-04:00","vendor":"This Shit Blinks","type":"Vibrations","tags":["blinking doll eye jewelry","blinking jewelry","couture","doll eye jewelry","eye jewelry","hand made jewelry","handmade in Brooklyn","handmade jewelry","Jewelry","kt ferris","lost wax casting","mood ring","New Collection","this shit blinks"],"price":14000,"price_min":14000,"price_max":22000,"available":true,"price_varies":true,"compare_at_price":12000,"compare_at_price_min":12000,"compare_at_price_max":14000,"compare_at_price_varies":true,"variants":[{"id":29555263111212,"title":"Brass","option1":"Brass","option2":null,"option3":null,"sku":"","requires_shipping":true,"taxable":true,"featured_image":null,"available":true,"name":"Vibrations V - Brass","public_title":"Brass","options":["Brass"],"price":14000,"weight":0,"compare_at_price":14000,"inventory_management":"shopify","barcode":"","requires_selling_plan":false,"selling_plan_allocations":[]},{"id":29555263143980,"title":"Silver","option1":"Silver","option2":null,"option3":null,"sku":"","requires_shipping":true,"taxable":true,"featured_image":null,"available":true,"name":"Vibrations V - Silver","public_title":"Silver","options":["Silver"],"price":22000,"weight":0,"compare_at_price":null,"inventory_management":"shopify","barcode":"","requires_selling_plan":false,"selling_plan_allocations":[]},{"id":32001516503128,"title":"White Brass","option1":"White Brass","option2":null,"option3":null,"sku":"","requires_shipping":true,"taxable":true,"featured_image":null,"available":true,"name":"Vibrations V - White Brass","public_title":"White Brass","options":["White Brass"],"price":14000,"weight":0,"compare_at_price":12000,"inventory_management":"shopify","barcode":"","requires_selling_plan":false,"selling_plan_allocations":[]}],"images":["\/\/thisshitblinks.com\/cdn\/shop\/products\/Untitled_cosdaapy.jpg?v=1593189364","\/\/thisshitblinks.com\/cdn\/shop\/products\/Untitled_codsfghpy.jpg?v=1593189364","\/\/thisshitblinks.com\/cdn\/shop\/products\/Untitled_copswdasdxy.jpg?v=1576451774","\/\/thisshitblinks.com\/cdn\/shop\/products\/Untitled_copyadfgh.jpg?v=1576451774","\/\/thisshitblinks.com\/cdn\/shop\/products\/IMG_6187_copyD.jpg?v=1576451774"],"featured_image":"\/\/thisshitblinks.com\/cdn\/shop\/products\/Untitled_cosdaapy.jpg?v=1593189364","options":["Metal"],"media":[{"alt":null,"id":2726556598316,"position":1,"preview_image":{"aspect_ratio":1.776,"height":2432,"width":4320,"src":"\/\/thisshitblinks.com\/cdn\/shop\/products\/Untitled_cosdaapy.jpg?v=1593189364"},"aspect_ratio":1.776,"height":2432,"media_type":"image","src":"\/\/thisshitblinks.com\/cdn\/shop\/products\/Untitled_cosdaapy.jpg?v=1593189364","width":4320},{"alt":null,"id":2726556565548,"position":2,"preview_image":{"aspect_ratio":0.563,"height":4320,"width":2432,"src":"\/\/thisshitblinks.com\/cdn\/shop\/products\/Untitled_codsfghpy.jpg?v=1593189364"},"aspect_ratio":0.563,"height":4320,"media_type":"image","src":"\/\/thisshitblinks.com\/cdn\/shop\/products\/Untitled_codsfghpy.jpg?v=1593189364","width":2432},{"alt":null,"id":2726557122604,"position":3,"preview_image":{"aspect_ratio":0.563,"height":4320,"width":2432,"src":"\/\/thisshitblinks.com\/cdn\/shop\/products\/Untitled_copswdasdxy.jpg?v=1576451774"},"aspect_ratio":0.563,"height":4320,"media_type":"image","src":"\/\/thisshitblinks.com\/cdn\/shop\/products\/Untitled_copswdasdxy.jpg?v=1576451774","width":2432},{"alt":null,"id":2726557155372,"position":4,"preview_image":{"aspect_ratio":0.563,"height":4320,"width":2432,"src":"\/\/thisshitblinks.com\/cdn\/shop\/products\/Untitled_copyadfgh.jpg?v=1576451774"},"aspect_ratio":0.563,"height":4320,"media_type":"image","src":"\/\/thisshitblinks.com\/cdn\/shop\/products\/Untitled_copyadfgh.jpg?v=1576451774","width":2432},{"alt":null,"id":2726557253676,"position":5,"preview_image":{"aspect_ratio":0.563,"height":4320,"width":2432,"src":"\/\/thisshitblinks.com\/cdn\/shop\/products\/IMG_6187_copyD.jpg?v=1576451774"},"aspect_ratio":0.563,"height":4320,"media_type":"image","src":"\/\/thisshitblinks.com\/cdn\/shop\/products\/IMG_6187_copyD.jpg?v=1576451774","width":2432}],"requires_selling_plan":false,"selling_plan_groups":[],"content":"\u003cp class=\"m_-3446359851151315177p1\"\u003e\u003cspan class=\"m_-3446359851151315177s1\"\u003eVibrations Collection\u003c\/span\u003e\u003c\/p\u003e\n\u003cp class=\"m_-3446359851151315177p2\"\u003e \u003c\/p\u003e\n\u003cp class=\"m_-3446359851151315177p1\"\u003e\u003cspan class=\"m_-3446359851151315177s1\"\u003eEverything vibrates on a specific level. \u003c\/span\u003e\u003cspan class=\"m_-3446359851151315177s1\"\u003eSome vibrations we create and some are received by us from the ether. \u003c\/span\u003e\u003cspan class=\"m_-3446359851151315177s1\"\u003eThis new collection is a mixture of vibrations received and given. \u003c\/span\u003e\u003cspan class=\"m_-3446359851151315177s1\"\u003eEach piece is a vibration KT Ferris has processed  and then manifested \u003c\/span\u003e\u003cspan class=\"m_-3446359851151315177s1\"\u003ewith her own hands. Every design is meticulously carved in wax \u003c\/span\u003e\u003cspan class=\"m_-3446359851151315177s1\"\u003eand birthed into metal. Her works have always been perceived as amulets \u003c\/span\u003e\u003cspan class=\"m_-3446359851151315177s1\"\u003eof protection. This new collection is reminiscent of decorative armor of \u003c\/span\u003e\u003cspan class=\"m_-3446359851151315177s1\"\u003eages past and future neither classical or futuristic but intrinsically both. \u003c\/span\u003e\u003cspan class=\"m_-3446359851151315177s1\"\u003eAll the blinking eyes have a new shield protecting the wearer and the amulet.  \u003c\/span\u003e\u003c\/p\u003e\n\u003cp class=\"m_-3446359851151315177p1\"\u003e\u003cspan class=\"m_-3446359851151315177s1\"\u003eThe formations are also similar to seismic readings of earthquake vibrations from the earth. They are shifts in its core ushering change and growth to its surface in the same way creating jewelry is for KT Ferris.  \u003c\/span\u003e\u003c\/p\u003e\n\u003cp class=\"m_-3446359851151315177p1\"\u003e\u003cspan class=\"m_-3446359851151315177s1\"\u003eThis design comes with a brown blinking doll eye. Laying about 3 inches long this necklace comes on a 14 inch chain, if you need a shorter or longer length chain please leave a note at checkout.\u003c\/span\u003e\u003c\/p\u003e\n\u003cdiv class=\"yj6qo\"\u003eWill ship in 4-6 weeks! \u003c\/div\u003e"}