SELECTED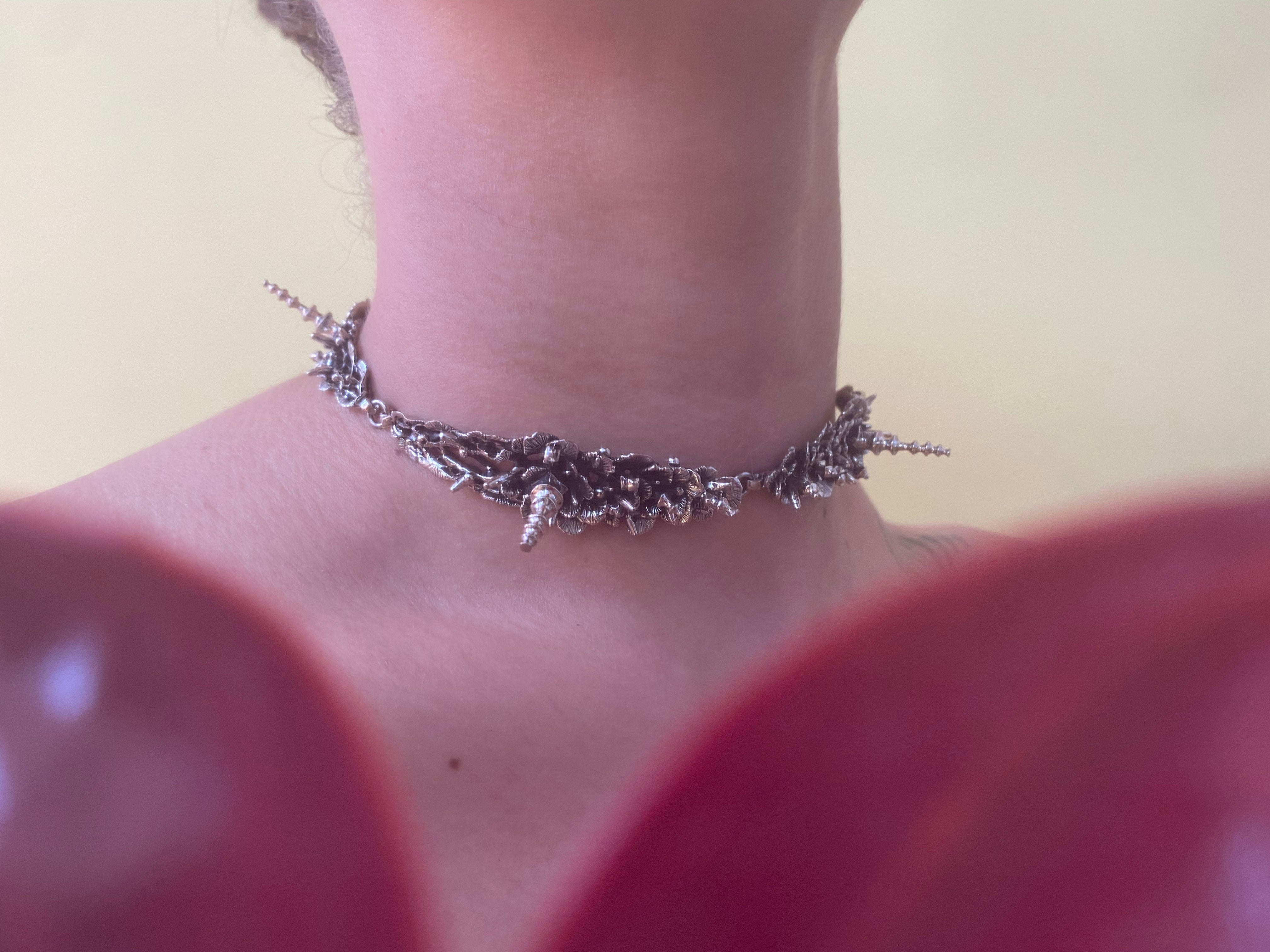 SELECTED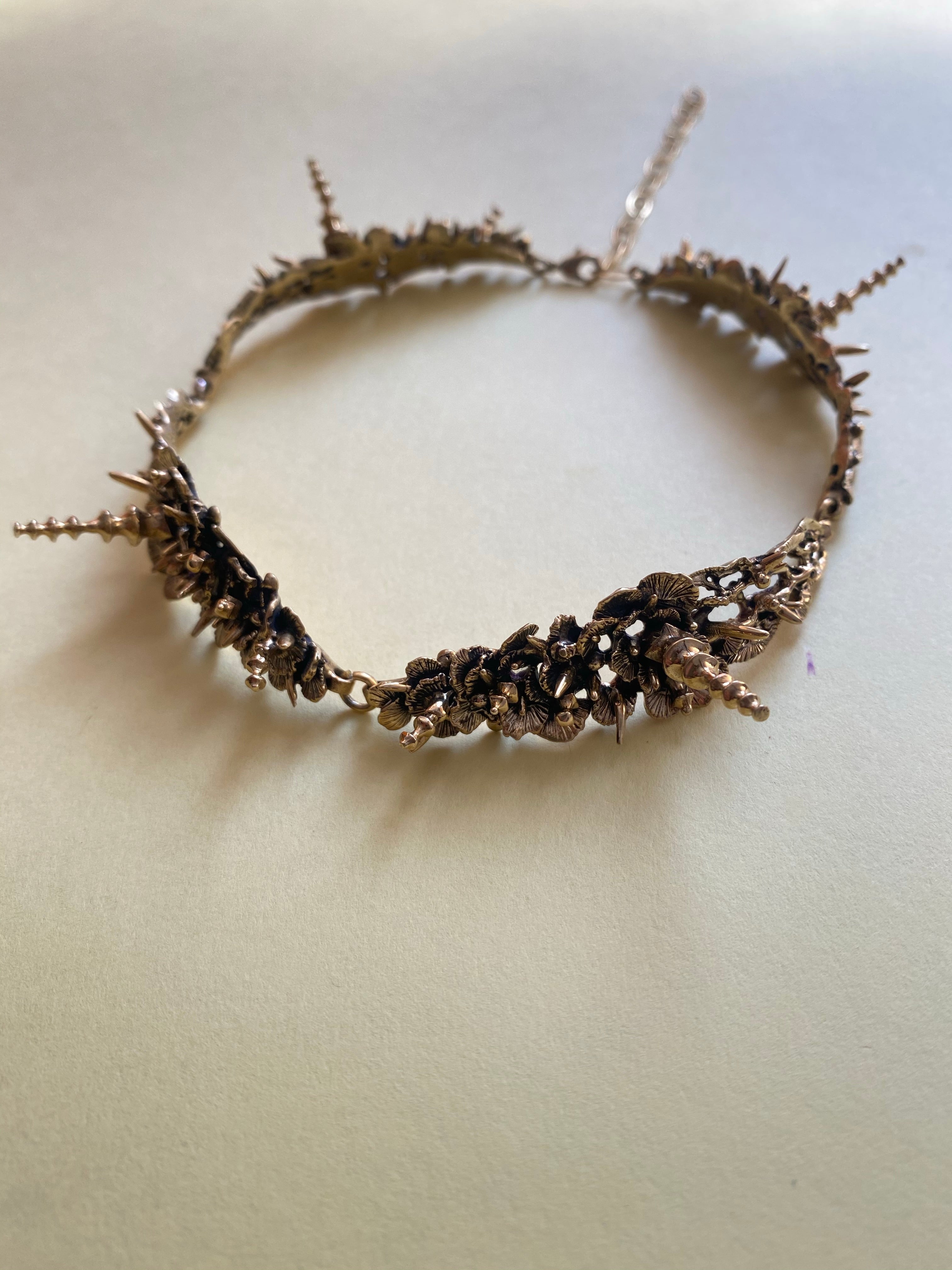 SELECTED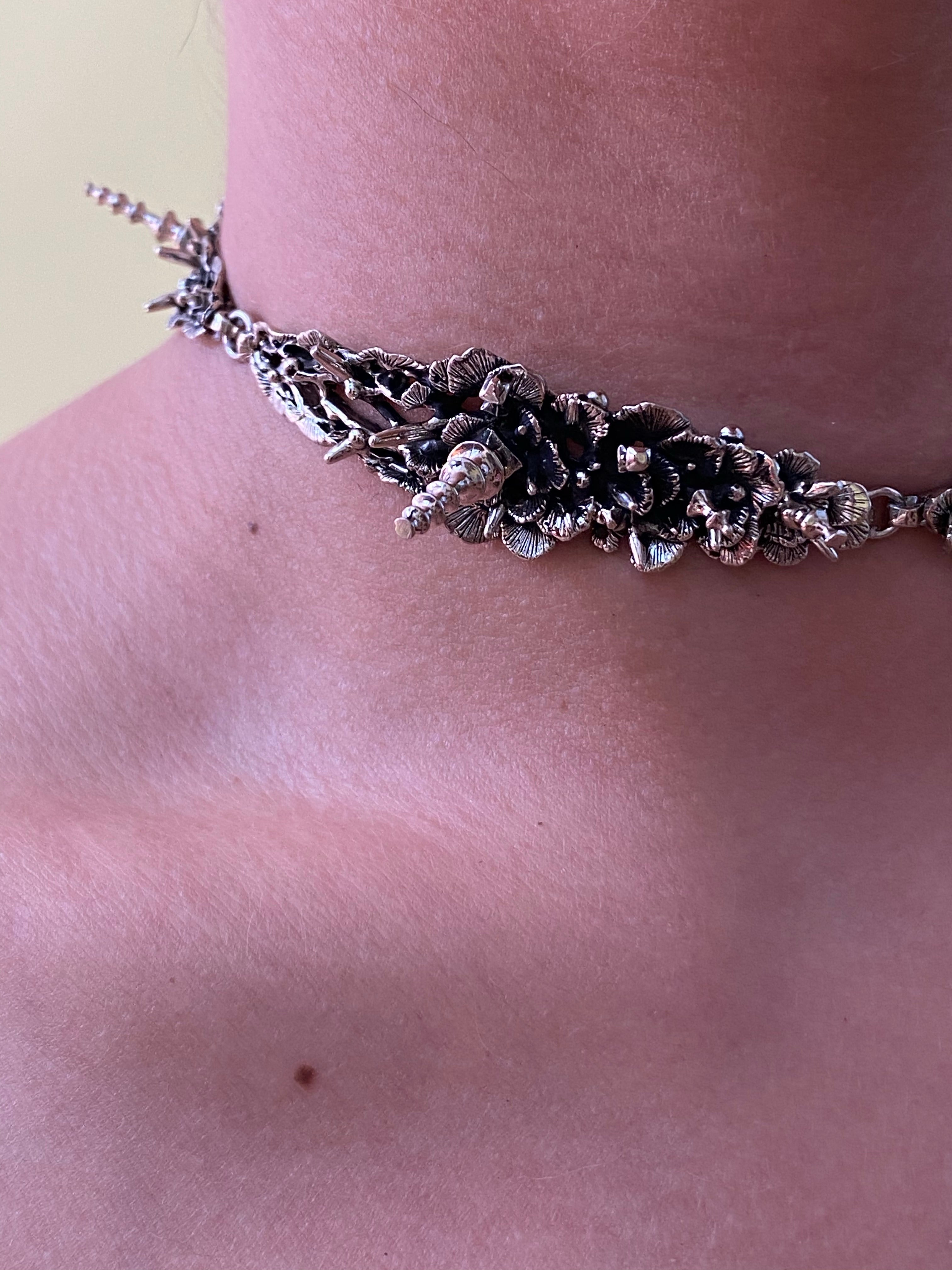 SELECTED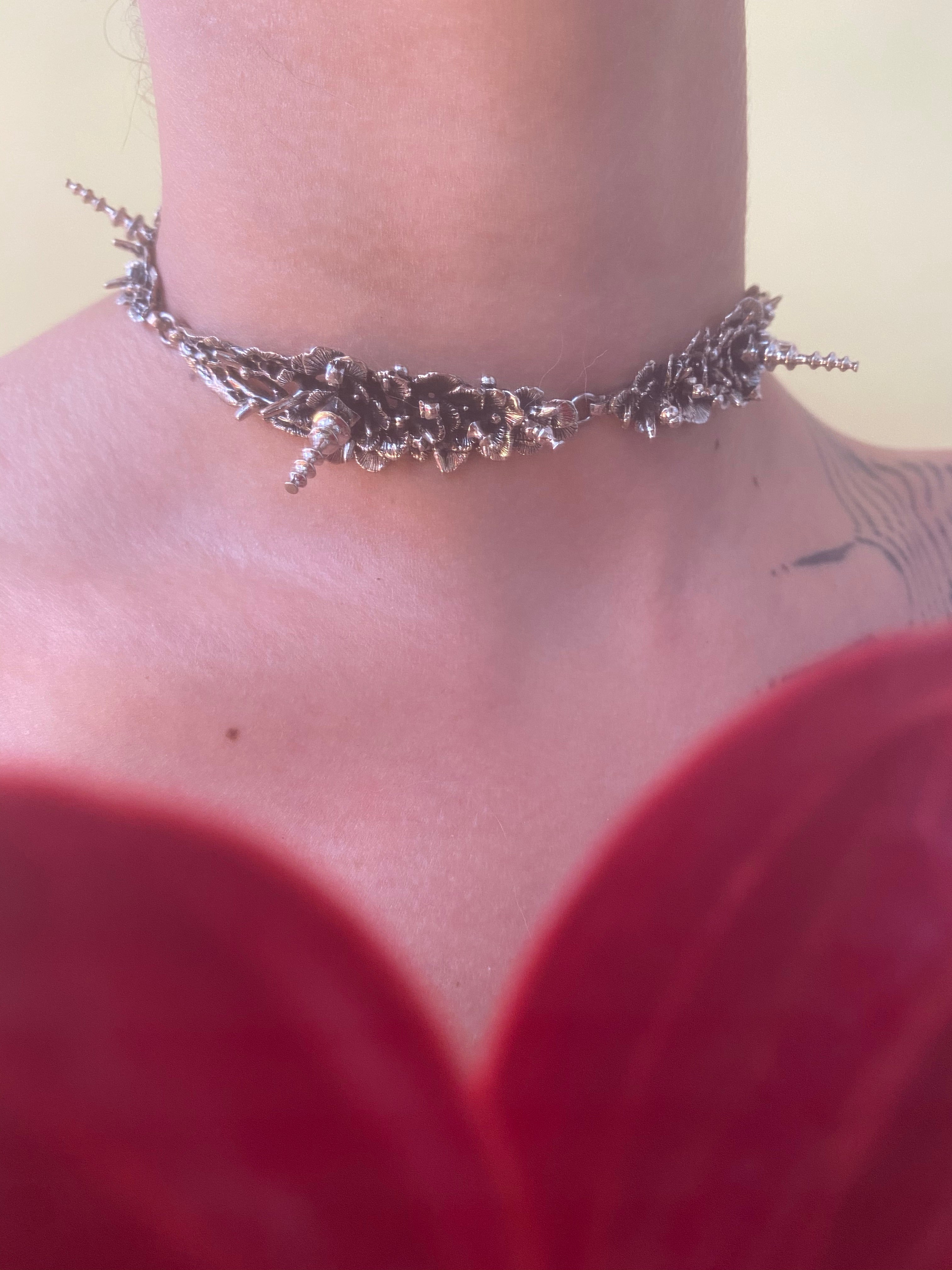 SELECTED
SELECTED
SELECTED
Growth Choker
This choker represents growth. Growth is important. We must keep moving forward and learning. Taking the old and joining forces with the new. Morphing old ideas with new trains of thought to create a better understanding. 
I've always felt as I grow as a person my work follows suit. It's hard for me to articulate exactly how I feel but through my work I am able to show you. My work teaches me. As I become better acquainted with myself I become more aware of the world around me. As I become more honest with myself my work grows. 
Cheers to staying curious! 
please include neck measurements in the note section at checkout to insure best fit! Each choker comes with a 5 inch long extension. 
Metal:
Brass: gold color
White Brass: silver color
Sterling Silver: silver
{"id":4716841599064,"title":"Growth Choker","handle":"growth-4","description":"\u003cp\u003eThis choker represents growth. Growth is important. We must keep moving forward and learning. Taking the old and joining forces with the new. Morphing old ideas with new trains of thought to create a better understanding. \u003c\/p\u003e\n\u003cp\u003eI've always felt as I grow as a person my work follows suit. It's hard for me to articulate exactly how I feel but through my work I am able to show you. My work teaches me. As I become better acquainted with myself I become more aware of the world around me. As I become more honest with myself my work grows. \u003c\/p\u003e\n\u003cp\u003eCheers to staying curious! \u003c\/p\u003e\n\u003cp\u003eplease include neck measurements in the note section at checkout to insure best fit! Each choker comes with a 5 inch long extension. \u003c\/p\u003e\n\u003cp\u003eMetal:\u003c\/p\u003e\n\u003cp\u003eBrass: gold color\u003c\/p\u003e\n\u003cp\u003eWhite Brass: silver color\u003c\/p\u003e\n\u003cp\u003eSterling Silver: silver\u003c\/p\u003e","published_at":"2023-04-01T11:11:05-04:00","created_at":"2020-08-06T21:53:43-04:00","vendor":"This Shit Blinks","type":"","tags":[],"price":42000,"price_min":42000,"price_max":80000,"available":true,"price_varies":true,"compare_at_price":42000,"compare_at_price_min":42000,"compare_at_price_max":60000,"compare_at_price_varies":true,"variants":[{"id":33228801572952,"title":"Brass","option1":"Brass","option2":null,"option3":null,"sku":"","requires_shipping":true,"taxable":true,"featured_image":null,"available":true,"name":"Growth Choker - Brass","public_title":"Brass","options":["Brass"],"price":42000,"weight":0,"compare_at_price":42000,"inventory_management":"shopify","barcode":"","requires_selling_plan":false,"selling_plan_allocations":[]},{"id":33228801605720,"title":"White Brass","option1":"White Brass","option2":null,"option3":null,"sku":"","requires_shipping":true,"taxable":true,"featured_image":null,"available":true,"name":"Growth Choker - White Brass","public_title":"White Brass","options":["White Brass"],"price":42000,"weight":0,"compare_at_price":42000,"inventory_management":null,"barcode":"","requires_selling_plan":false,"selling_plan_allocations":[]},{"id":33228801638488,"title":"Sterling Silver","option1":"Sterling Silver","option2":null,"option3":null,"sku":"","requires_shipping":true,"taxable":true,"featured_image":null,"available":true,"name":"Growth Choker - Sterling Silver","public_title":"Sterling Silver","options":["Sterling Silver"],"price":80000,"weight":0,"compare_at_price":60000,"inventory_management":null,"barcode":"","requires_selling_plan":false,"selling_plan_allocations":[]}],"images":["\/\/thisshitblinks.com\/cdn\/shop\/products\/image_4ae43206-0ad1-48b2-adb1-d9654786d7b5.jpg?v=1596831200","\/\/thisshitblinks.com\/cdn\/shop\/products\/image_c24168bd-91ec-4b2b-b7b6-3cfcee9f9232.jpg?v=1596831200","\/\/thisshitblinks.com\/cdn\/shop\/products\/image_e87567a2-913e-4e58-ac82-0184ff2c7bf9.jpg?v=1596831200","\/\/thisshitblinks.com\/cdn\/shop\/products\/image_8bf643d5-1c29-420d-959b-8d5759ba382d.jpg?v=1596831200","\/\/thisshitblinks.com\/cdn\/shop\/products\/image_4c4e25da-b6f7-4f60-8321-c70d3796df75.jpg?v=1596831200","\/\/thisshitblinks.com\/cdn\/shop\/products\/image_02813ed5-63f5-46bc-a3c1-080fc84db521.jpg?v=1596831200","\/\/thisshitblinks.com\/cdn\/shop\/products\/image_2bb1351a-b627-4354-b78d-045612391d2e.jpg?v=1596831177"],"featured_image":"\/\/thisshitblinks.com\/cdn\/shop\/products\/image_4ae43206-0ad1-48b2-adb1-d9654786d7b5.jpg?v=1596831200","options":["Metal"],"media":[{"alt":null,"id":7548668313688,"position":1,"preview_image":{"aspect_ratio":1.333,"height":3024,"width":4032,"src":"\/\/thisshitblinks.com\/cdn\/shop\/products\/image_4ae43206-0ad1-48b2-adb1-d9654786d7b5.jpg?v=1596831200"},"aspect_ratio":1.333,"height":3024,"media_type":"image","src":"\/\/thisshitblinks.com\/cdn\/shop\/products\/image_4ae43206-0ad1-48b2-adb1-d9654786d7b5.jpg?v=1596831200","width":4032},{"alt":null,"id":7540207321176,"position":2,"preview_image":{"aspect_ratio":0.75,"height":4032,"width":3024,"src":"\/\/thisshitblinks.com\/cdn\/shop\/products\/image_c24168bd-91ec-4b2b-b7b6-3cfcee9f9232.jpg?v=1596831200"},"aspect_ratio":0.75,"height":4032,"media_type":"image","src":"\/\/thisshitblinks.com\/cdn\/shop\/products\/image_c24168bd-91ec-4b2b-b7b6-3cfcee9f9232.jpg?v=1596831200","width":3024},{"alt":null,"id":7548667658328,"position":3,"preview_image":{"aspect_ratio":0.75,"height":4032,"width":3024,"src":"\/\/thisshitblinks.com\/cdn\/shop\/products\/image_e87567a2-913e-4e58-ac82-0184ff2c7bf9.jpg?v=1596831200"},"aspect_ratio":0.75,"height":4032,"media_type":"image","src":"\/\/thisshitblinks.com\/cdn\/shop\/products\/image_e87567a2-913e-4e58-ac82-0184ff2c7bf9.jpg?v=1596831200","width":3024},{"alt":null,"id":7548668117080,"position":4,"preview_image":{"aspect_ratio":0.75,"height":4032,"width":3024,"src":"\/\/thisshitblinks.com\/cdn\/shop\/products\/image_8bf643d5-1c29-420d-959b-8d5759ba382d.jpg?v=1596831200"},"aspect_ratio":0.75,"height":4032,"media_type":"image","src":"\/\/thisshitblinks.com\/cdn\/shop\/products\/image_8bf643d5-1c29-420d-959b-8d5759ba382d.jpg?v=1596831200","width":3024},{"alt":null,"id":7548253405272,"position":5,"preview_image":{"aspect_ratio":0.716,"height":2777,"width":1988,"src":"\/\/thisshitblinks.com\/cdn\/shop\/products\/image_4c4e25da-b6f7-4f60-8321-c70d3796df75.jpg?v=1596831200"},"aspect_ratio":0.716,"height":2777,"media_type":"image","src":"\/\/thisshitblinks.com\/cdn\/shop\/products\/image_4c4e25da-b6f7-4f60-8321-c70d3796df75.jpg?v=1596831200","width":1988},{"alt":null,"id":7548255109208,"position":6,"preview_image":{"aspect_ratio":0.75,"height":4032,"width":3024,"src":"\/\/thisshitblinks.com\/cdn\/shop\/products\/image_02813ed5-63f5-46bc-a3c1-080fc84db521.jpg?v=1596831200"},"aspect_ratio":0.75,"height":4032,"media_type":"image","src":"\/\/thisshitblinks.com\/cdn\/shop\/products\/image_02813ed5-63f5-46bc-a3c1-080fc84db521.jpg?v=1596831200","width":3024},{"alt":null,"id":7548669100120,"position":7,"preview_image":{"aspect_ratio":0.75,"height":4032,"width":3024,"src":"\/\/thisshitblinks.com\/cdn\/shop\/products\/image_2bb1351a-b627-4354-b78d-045612391d2e.jpg?v=1596831177"},"aspect_ratio":0.75,"height":4032,"media_type":"image","src":"\/\/thisshitblinks.com\/cdn\/shop\/products\/image_2bb1351a-b627-4354-b78d-045612391d2e.jpg?v=1596831177","width":3024}],"requires_selling_plan":false,"selling_plan_groups":[],"content":"\u003cp\u003eThis choker represents growth. Growth is important. We must keep moving forward and learning. Taking the old and joining forces with the new. Morphing old ideas with new trains of thought to create a better understanding. \u003c\/p\u003e\n\u003cp\u003eI've always felt as I grow as a person my work follows suit. It's hard for me to articulate exactly how I feel but through my work I am able to show you. My work teaches me. As I become better acquainted with myself I become more aware of the world around me. As I become more honest with myself my work grows. \u003c\/p\u003e\n\u003cp\u003eCheers to staying curious! \u003c\/p\u003e\n\u003cp\u003eplease include neck measurements in the note section at checkout to insure best fit! Each choker comes with a 5 inch long extension. \u003c\/p\u003e\n\u003cp\u003eMetal:\u003c\/p\u003e\n\u003cp\u003eBrass: gold color\u003c\/p\u003e\n\u003cp\u003eWhite Brass: silver color\u003c\/p\u003e\n\u003cp\u003eSterling Silver: silver\u003c\/p\u003e"}